Log in to Internet Teller
Remember, Secure First Credit Union will never ask for PIN numbers or passwords by text, email or phone!!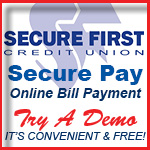 Internet Teller is one of Secure First Credit Union's easiest, most beneficial products! Internet Teller allows you to do everything Telephone Teller can do, only with the added convenience of conducting all of your business from your computer! Now you can have immediate access to all your Secure First Credit Union accounts 24 hours a day, 365 days a year from your home, work, or even while on vacation!
All transactions are confidential and safe. Our site is secured by VeriSign, and only you have access to your password. All transactions are done between your accounts; transfers to someone else's accounts are impossible. All check requests are mailed only to the address at which you receive your Secure First statements.
HOW TO USE INTERNET TELLER
IMPORTANT!
You must have a Telephone Teller Access Code set up
on your account in order to use Internet Teller!
Log on to www.securefirstcu.org.
Click on the link labeled Internet Teller.
Enter your User Name. If you do not have a User Name, click the link at the bottom of the page and follow the steps to acquire a User Name. The User Name is NOT your Account Number.
Enter your Access Code. Your access code is the same four-digit password that you use for Telephone Teller.
Use the simple menus on the left side of your screen to access all the possibilities that Internet Teller has to offer!
What can Internet Teller do for You?
Check your account(s) and loan(s) balances
Obtain loan(s) information and make payments
Check on deposits and withdrawals
Inquire about cleared checks
Request check-by-mail withdrawals
Transfer funds within your accounts
Download account information into Quicken or Money.
Sign up for E-Statements